Skip Navigation
Website Accessibility
MUSIC LESSONS
Passion. Experience.
Diligence.
History
Grayson's Tune Town was founded in 1953
Grayson's Tune Town features the longest-standing, most prominent lesson program in Crescenta Valley. Our goal is to guide students to new heights in their musical journey by catering each lesson to a student's individual needs. Our lesson program features accredited musicians with extensive teaching experience. Whether you're just getting started with music or have been playing for years, we're confident that our instructors will guide you on your journey whether it is In-Person or Online.
Scroll down to view our incredible teaching staff!
Instructors with a * next to their name will be available exclusively for online sessions
Book an Appointment
At Grayson's we know there can be a lot of questions regarding booking appointments for lessons. That's why we made it easy for you your needs, goals, and your budget.
---
POLICIES AND PRICING
---
LESSON POLICIES & FAQ'S

Policies & Pricing (Effective March 1st, 2022)

Private 30 Minute Lesson - $40

Private 45 Minute Lesson - $60

Private 60 Minute Lesson - $80

Semi-Private 30 Minute Lesson - $60

Lesson tuition is paid monthly in advance.

Lessons are recurring at the same time each week until canceled.

Lesson cancellations must be made with at least 36 hours notice.

Lesson cancellations made with less than 36 hours notice are still charged.

Excused lesson cancellations are limited to two per quarter.

One emergency cancellation may be made per quarter with no charge.

Excessive cancellations may result in additional lesson charges or removal from schedule.

Makeup lessons are given under special circumstances and based upon approval.

If a student's instructor is not present for the lesson, a well-qualified substitute will be provided.

After signing up and paying for your first month of lessons, you're entitled to a 10% discount on all regular-priced, taxable items in the shop while enrolled!
FREQUENTLY ASKED QUESTIONS
---
FAQ's:

How Are You Handling Lessons During COVID-19? - Lessons are available online and in-person!

Are Instructors Vaccinated? - Every Grayson's Team Member is Vaccinated!

How young do your lessons start? - We typically start lessons as young as six years old but have had students start as young as four.

Do I need to provide my own instrument? - With the exception of piano and drums, we require all students to provide their own instrument for lessons.

Which instructor is best with children, teens, adults? - ALL of our instructors have extensive experience with different age ranges of students and we're confident in our ability to tailor each lesson to suit your needs!

What hours are available for music lessons? - Generally speaking, our lessons run Monday-Friday from 2:00-8:00 and Saturday from 9:00-5:00.

Can I request an instructor? - Absolutely!
Use the form below to inquire about our lesson program and we'll reach out promptly!
MUSIC TEACHERS
Meet Our Teaching Staff
Corinne Dekker*
Corinne Dekker graduated summa cum laude from the Boston Conservatory with a BFA in Musical Theatre. Her charismatic approach to teaching has propelled her students onto stages and televisions across the world. Corinne has over 20 years of teaching experience and has appeared in theatre productions and TV shows internationally.
Education
Boston Conservatory
Dani King
Dani King is a Los Angeles based pianist and singer/songwriter with a degree in Film & Media Composition from California State University, Northridge. Dani's classical vocal & piano experience alongside her love of music has fueled a passion to guide students at any stage of their musical journey, from learning foundational elements to advanced techniques.
Education
California State University Northridge
Madison Leinster
Madison Leinster is a violinist and music educator with over seven years teaching experience. After graduating as a music major from Idyllwild Arts Academy in 2015, she moved to Los Angeles to continue pursuing violin and songwriting at Pasadena City College. During her time there, Madison dove deeper into her studies through piano and voice while also winning PCC's concerto competition and performing the Butterfly Lovers Violin Concerto with the orchestra. Madison has used her skills to write and perform violin for artists such as Billie Eilish, FINNEAS, Zedd, and more. She believes that it is important to lean in on each student's unique strengths so as to maintain a passion for music while also improving technical ability.
Education
Idyllwild Arts Academy
Skillset
Voice

Beginner Piano

Violin
Tara Kia
Tara is a singer-songwriter, composer, and actress. She's a classically trained pianist with a background in musical theatre. As a full-time musician, she helps her students prepare and perform like a professional while having fun. Tara believes that music teaches all the greatest lessons of life and she loves exposing her students to a mix of styles, including classical, pop, rock, soul, and jazz.
Education
University of Washington
Vicky Nguyen
Vicky Nguyen is a keyboardist, songwriter, and music artist. She graduated from California State University, Long Beach with a BA in jazz piano. She has toured extensively around the world and has had the pleasure of teaching a variety of music students.
Education
California State University, Long Beach
Korey Simeone
Korey Simeone is a multi-instrumentalist and actor based in Los Angeles. Korey's musical interest developed growing up in rural Northern Idaho where he developed an interest in bluegrass and classical music. Korey's musical interests developed further while living in Germany where he studied classical music in great depth. With over twenty years of experience as a professional musician and instructor, Korey excels in classical violin, fiddle, mandolin, and banjo.
Experience
Over 20 Years of Professional Experience
Skillset
Violin

Fiddle

Mandolin

Banjo

Bluegrass Guitar
Piano, Woodwinds, and Horns
Jean-Luc
Piriou
Jean-Luc is a Los Angeles-based singer-songwriter and performer. He received his Bachelors of Music in Vocal Performance and Composition from CalState LA in 2016 and has had the opportunity to bring the joy of music to many students since then. He focuses on the interests and unique skill set of each individual student in order to guide them towards achieving their musical goals.
Education
California State Los Angeles
Eric Johnson
Eric Johnson is a Los Angeles based woodwind instrumentalist, composer, and producer. He can be seen performing in local jazz venues as well as with Chicano soul powerhouse group Thee Sinseers. While earning his master's degree in jazz and improvisational music from University of Nevada Reno, he was awarded a graduate teaching assistant position working with undergraduate jazz ensembles. Eric's passion for teaching is infectious and has led to helping students break through barriers and become strong musicians with a lifetime appreciation of music.
Experience
University of Nevada Reno

University of Oregon
Skillset
Saxophone

Clarinet

Flute

Beginner Piano
Darryl Winseman
Darryl Winseman is a graduate of CSUN and has taught for over 20 years. Darryl's experience in Brass & Woodwind has led him to playing nationally with many big bands, orchestras, and Motown acts.
Experience
California State University Northridge
Sean Paxton*
Sean Paxton is a graduate of the USC's Thornton School of Music and has been teaching in the Crescenta Valley for over ten years. His experience with classical, jazz, pop, and theory caters to students with any interest or skill level. Sean also works as a composer and arranger for musicals and film.
Experience
USC Thornton School of Music
Kelly Whitworth
Kelly Whitworth received her B.M. from Berklee College of Music and has been teaching for over 15 years. Kelly enjoys teaching young students pop, jazz, theory, and how to perform through recitals!
Experience
Berklee College of Music
Vanessa Klaus
Vanessa Klaus began studying classical piano under her grandmother at the age of five, who is now one of the most respected members of the Music Teachers Association of California. Vanessa has participated in various competitions and recitals, including Certificate of Merit, biannual studio recitals, contemporary festivals, sight reading competitions, guild, and much more. Vanessa's strengths lie in classical, jazz, and pop. Vanessa enjoys teaching students of all ages, focusing on proficiency in reading music as well as strong technical skills such as scales & arpeggios.
Education
Music Teachers Association of California
Jawann Blanchey
Jawann Blanchey is a Los Angeles-based professional drummer and graduate of Musician's Institute with over 15 years of experience playing drums in fast-paced, demanding musical environments. Jawann's musical experience has led him onto stages around the United States with prominent artists such as Kanye West, Dave Chappelle, Melanie Faye, Robert Glasper, and more. Jawann's passion for instruction has inspired students of all ages. Whether it be Rock, Hip-Hop, Funk, Jazz, Swing, or Country - Jawann excels in breaking down techniques to bite-sized pieces to ensure that students of all ages can succeed in their musical journey.
Experience
Musician's Institute
Brian Ferraro
Brian Ferraro is a graduate of Berklee College of Music. Brian has extensively toured worldwide with various artists and continues to play around the LA area. Brian has taught for over 15 years.
Experience
Berklee College of Music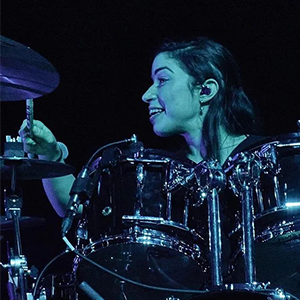 Noa Kahn
Noa Kahn is a Los Angeles-based drum instructor that began drumming at the age of six years old. Noa's passion for drums led her to Berklee College of Music, where she recorded drums for Zakir hussain's "Lady L" with the Berklee Indian Ensemble which was nominated for the 2023 Grammy Awards. Additionally, Noa has toured and played with Adam Lambert, Big Wild, Jax, Jhart, and other musical groups. Noa has taught drums for over nine years working with students of all ages and backgrounds. Noa's strengths lie in Jazz, Fusion, Funk, and R&B but can teach in almost any genre..
Education
Berklee College of Music
Guitar, Bass, and Ukulele
Tieg Johnson
Tieg Johnson graduated from MI with honors. He has recorded for movies and nationwide TV ads. Tieg has also toured the US and Canada with many major labor recording artists. He has even been featured in music videos as well as Nickelodeon. Tieg has taught for over 15 years.
Experience
Musician's Institute
Emilio Moyao
Emilio is a multi-instrumentalist based in Los Angeles. Emilio's passion for teaching started during his time at California Institute of the Arts, where he graduated with a Bachelor of Fine Arts Degree in Performance & Composition. Emilio's experience tutoring classmates and teaching younger players led to a passion for teaching. Today in addition to teaching, Emilio pursues composition, music production, and performing live with his band, Triangle Fire.
Education
California Institute of the Arts
David Colón
David Colón is a Los Angeles based guitarist, producer, and educator. David is a graduate of the California State University of Northridge Jazz Studies program where he won multiple performance awards with combo and big band ensembles. He has over 10 years experience playing and teaching professionally in Los Angeles across multiple genres including jazz, funk, rock, classical, and indie music. David strives to help students with technique, music theory, and most important of all having fun!
Experience
California State University Northridge Jazz Studies
Skillset
Guitar

Bass

Ukulele

Piano
Kevin Tiernan
Kevin received his Bachelor's Degree from USC's Thornton Studio Guitar Performance program. He has spent his career playing in musicals with Grammy & Tony award winning musicians, and has taught for over 20 years.
Experience
USC's Thornton Studio Guitar Performance Program



Skillset
Guitar

Bass

Dobro

Ukulele

Mandolin
Evan Ziegenmeyer
Evan Ziegenmeyer is a Los Angeles based guitarist and singer-songwriter. Evan received his Master's Degree from USC's Thornton School of Music and continues to work as an independent artist, educator, and singer-songwriter.
Experience
USC Thornton School of Music


Jarret Myers
Jarret Myers is a current doctoral candidate for the Studio Guitar Program at USC's Thornton School of Music. Jarret earned his Bachelor's degree in Jazz Studies from North Texas and his Master's degree in Jazz Performance from UNLV, where he also taught jazz guitar as an adjunct professor. Jarret has performed professionally for over ten years with internationally recognized production shows and singers but gains the most enjoyment from instructing students of all ages.
Experience
USC Thornton School of Music
Grethel Bonilla
Grethel Bonilla studied at Musicians Institute and has been dedicated to honing her skills as a touring/live performance guitarist, singer/songwriter, and educator. With ten years of teaching experience, she pays attention to her student's learning pace and their goals in order to make barriers become break-throughs without losing any of the fun in the process.
Experience
Musician's Institute
Kyla Wright
Kyla's love of music started from a young age when she started piano lessons at the age of 4. Her love of music continue to grow, leading her to bass guitar as a teenager. Kyla's passions led her to a full scholarship at Berklee College of Music where she graduated in 2023. During her time at Berklee, Kyla fell in love with teaching, coaching her fellow classmates as well as younger students in the area. Kyla has enjoyed working with prominent industry artists such as Chloe Bailey, Rico Nasty, Wyclef Jean, and more.
Education
Berklee College of Music
Skillset
Bass

Piano

Beginning Voice

Beginning Guitar